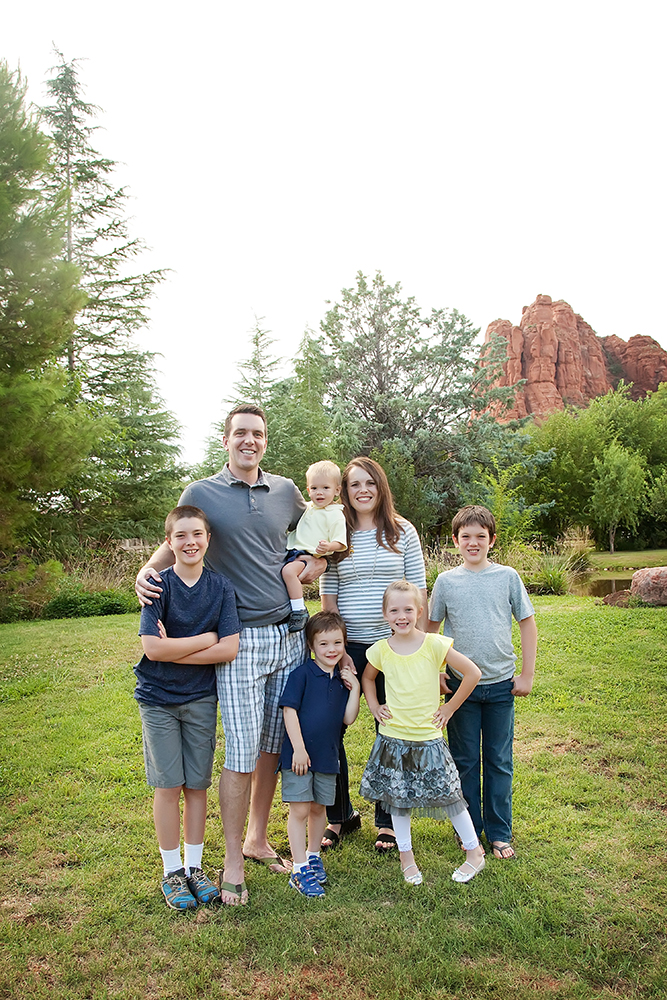 Welcome to Patterson Orthodontics
If you're reading this you probably want to know a little about "Dr. Rob" Patterson. The key word is likely little. Dr. Rob is one of those guys that loves life, people, and has way too many hobbies (at least according to his wife Angie). He enjoys running, mountain biking, fishing (mostly for bass, but anything that bites will do), shooting sports, soccer, volleyball, football and foosball, the occasional Xbox 360 game, and skiing. He enjoys singing, playing instruments (piano, guitar, and trombone, to name a few), acting in local plays, and going to much higher quality productions than the ones he acts in.
The majority of his time is spent with his family, however. He and his wife have 5 children; four handsome boys and one beautiful little girl. As you can imagine, there is never a dull moment at the Patterson household. You will likely see Dr. Rob out and about in the community during soccer season, at community events, running in a local 5k race, and picking something up at a hardware store for another home improvement project. He and his family have now lived in the quad-cities area for almost a decade, and they love everything about it.
If you really want to know about all of the academic stuff this should satisfy you. Dr. Rob completed an additional 12 years of education following high school. He attended Brigham Young University where he earned a BA in Korean (you'll have to ask him about that!), and then studied the dental sciences at Virginia Commonwealth University (VCU) where he obtained his DDS degree. He graduated Magna Cum Laude, and was inducted into OKU, a dental honor society that only accepts approximately the top 5% of all dentists. Dr. Rob remained at VCU to learn how to treat much more complex dental cases and earned a certificate in Advanced Education in General Dentistry. He then attended orthodontic residency at Saint Louis University for 30 months, where he earned an orthodontic certificate and Masters in Dental Research degree. Dr. Rob is a member of the American Association of Orthodontists, the Pacific Coast Society of Orthodontics, The Progressive Orthodontist, the Arizona Dental Association and American Dental Association, and the Northern Arizona Dental Association.
Dr. Rob can't wait to meet and get to know you. He loves each and every one of his patients as an individual, and is excited to learn about your dreams, accomplishments, and passions, so don't hesitate to tell him about yourself!